REMARKS BY SENATOR FRED MITCHELL
ON LAUNCH DAY FOX HILL CHURCH SERVICE
5th April, 2002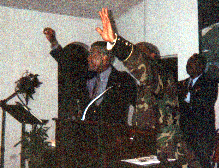 The story has been told by me a couple of times but I think that it is worth repeating. It was in December 1996, almost six years ago that George Mackey came to see me one morning early in my office. He was as you know about to retire as the representative for the Fox Hill constituency. He asked me if he could put my name forward to the then party leader Sir Lynden O. Pindling for the nomination for the Fox Hill constituency. I agreed. Following upon that I was fortunate enough to be able to rejoin the Progressive Liberal Party and become its standard bearer in this constituency.
One day the full history of that will be written but suffice it to say at this time, that I am grateful to Mr. Mackey for asking me to be his successor. This has given me the opportunity of lifetime, the opportunity to fulfill a lifeís ambition to be able to serve in the Parliament of the Commonwealth of The Bahamas.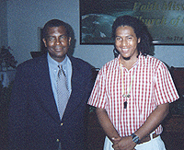 We lost that election in 1997 by some 222 votes. And the partyís fortunes appeared to be down and out. With the result of 35 for the FNM to 5 for the PLP, many people thought the PLP was finished. I knew better. I never skipped a beat. I was not disillusioned, not in despair. Michael Manley following a crushing defeat by Edward Seaga in 1980 told me of his opponents in Jamaica: We routed them before. We can rout them again.
The cadre of people who are still with us today in the Fox Hill area also believed that. And the week after the crushing defeat of the PLP, with police officers and the public taunting us in the streets, fourteen of us from Fox Hill led by myself took a bus into the heart of Nassau and demon rated against the FNM and accused them of being corrupt in appointing what was then known as a gussimae Cabinet. The PLPs of Fox Hill never blinked, never doubted, never fainted, they never cried, they never gave up, they never broke their stride. They sang we shall overcome.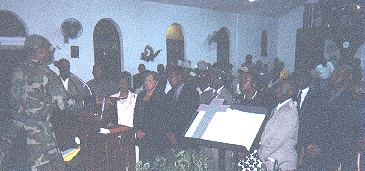 And then some consultants were invited from Britain in the spring of 1998 to Nassau at my invitation. On their first night they joined us in services at this church. They stayed for one week, and when they left they confirmed what we felt by our instincts. They told us that there were only 2500 votes between victory and defeat in the 1997 election. That meant that if the PLP got 2500 more people to vote for us we would have been the Government in 1997. I knew then that victory was within our grasp. I think few people doubt that today.
Today, I believe most people think today is that other day of which the great Clement Bethel wrote. Mr. Bethel tells us in his anthem: When the road seems rough, when youíve had enough, donít faint, donít cry, wonder why. Just keep n trying. Cease your crying. Look beyond this present day. This time will pass tomorrowís another day.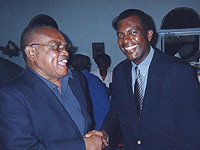 I believe that all of here this evening believe that our day is coming. And that day will be with Godís help Thursday 2 May 2002.
There are so many people that deserve thanks for their assistance to this campaign. Calling names is a dangerous thing sometimes but call names we must. Certainly we must thank Almighty God for bringing us to this point. We have run a good race. We are fighting a good fight. We are keeping the faith.
We thank the Reverend Gentlemen and ladies who came out tonight for their remarks and especially our host Pastor Bishop Austin Saunders and his family. In 1998, we celebrated the first anniversary of our connection to the Fix Hill constituency and he led the service. And so we thought that from where we began, we ought to renew our strength.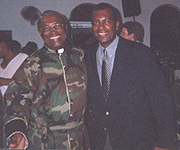 On our team are many many men and women from all walks of life. We have benefactors and friends. I want to thank them all. The campaign team: Al Dillette, Tameka Cash, Altamese Isaacs, Calvin Brown and Kendal Demeritte. The Branch officers; Larry Wilmott, Chair. The Vice Chairs: Della Cockburn and Clarence Moss. The treasurer Kayla Wilmott; the Secretary, Deiedre Rolle, her assistant Renee Major. The Trustees: Joey Greene and Jason Ferguson. Our Co Chairs for the Fundraising Committee: Charles Johnson and again Evangelist Irene Rolle. Our friend Sonia Cox-Hamilton.
In particular I would like to thank some special benefactors Mr. and Mrs. Derek Davis for their untiring support and latterly their son Jamal who has just joined the team following his successful completion of his law studies.
I would like to thank Eric Wilmott who helped us organize so many of the functions here. Mr. Frank Edgecombe the former Member of Parliament for his support and that of Mrs. Edgecombe. There are so many . I am sure that I may left out some names but I want to say for any omission forgive me but I thank you all.
What do I leave you here tonight. I leave you with the vision of the Leader of the Progressive Liberal Party Perry Christie. He has been an ally for almost three decades. We started out in the Valley together and we are still together. He agreed to honour the promise of Sir Lynden Pindling to appoint me to the Seat in the Senate which I am sure in no small measure was responsible for allowing me the profile that I have had over the past five years.
In that connection I was privileged to serve with an excellent team headed by Dr. Marcus Bethel, and my colleagues Senator Obie Wilchcombe and Senator Melanie Griffin and former Senator Damien Gomez. I leave the Senate with fond memories of having served there.
Our leader has told us that we must fight a clean fight. We must fight a good fight. There must be no lowness in this campaign, although our opponents my tempt us to do lowness.
I promise to honour that vision of Mr. Christie. I promise also to stay focused and organized. We must put on our battle shoes. We must keep wide awake.
I sum up what I hope to be for the people of the Fox Hill as visible and accessible. That is what you have told me that you want in a representative.
But beyond that I want to promise to work for jobs and social improvements and living standards and a revived Fox Hill Festival that does not discriminate against people on the grounds of political affiliation. I want also to promise you that after this election is over, this community will not be divided by the result. We all have to live together win lose or draw.
I want to make the specific promise that Fox Hill will be free of the political junk paraphernalia after the election is over, free of litter from political paraphernalia. I promise that within two weeks following the election date, all of my posters and other paraphernalia will come down in Fox Hill, save for the constituency office signs. I was particularly offended after the last election by my opponent's leaving up her signs and other political junk all around the constituency after the election was over. I call upon her to make a similar pledge. That after the election, she will leave this community free of all the political paraphernalia, so that we can get back to normal as soon as possible. I would hope that any other candidate will make the same pledge.
Once again, I thank you all, my we go on with Godís help to victory.
Photographs from top: Senator Mitchell acknowledges the applause of the congregation with Bishop Austin Saunders; after the service with supporter Kenyatto; Branch executive gathers for special prayer and dedication to 'fighting a good fight'; after the service with PLP Stalwart Councillor and mentor Eric Wilmott; with the host pastor Bishop Austin Saunders of Faith Mission Church of God.